The relationship between Indigenous women and the Earth is a sacred one. It is truly a beautiful partnership built on mutual respect and trust. Land and water are divine and treated as such. Indigenous women are connected to the Earth in a spiritual way and use every aspect of their interconnectedness to amplify their voices within their communities. The Earth is their life force. It is their food source. (This relationship also applies to animals.) It is their source from which their education about life stems. Visualize a tree. See the roots, the trunk, the branches, the stems, and the leaves. They see that tree as a life force, and they show it the utmost respect as they value their interdependence with it.
Unfortunately, this relationship has been threatened as the result of capitalistic ideology and patriarchal hierarchy. In order to understand why there are issues now, and how these ideologies impacted them, we need to understand the source of the change. Let's take a brief trip back in history.
Colonial theory bred a very divisive ideology in that it created structure of government and community that was solely based in systems and levels of hierarchy of and between people. They were based upon class, race, gender, religion, education, and so on and so forth. Herein enters the strategy of oppression, exploitation, and intersectional theory circa colonial period. The Indigenous people did not place in that class system whatsoever. We all know the basics of what went down. Those that remained (that survived the genocide) were left to scrounge for whatever scraps that they could which essentially meant that they had to make deals with the colonists. Compromising their own ways, principles, culture, and traditions in order to survive. Suddenly a community of people that previously had little to no level of class structure were grappling with things like money, levels of government within their tribes, and modern ways which created separation and oppression within their own people. How does this all tie into Ecofeminism? "Ecofeminism claims that patriarchal structures justify their dominance through categorical or dualistic hierarchies: heaven/earth, mind/body, male/female, human/animal, spirit/nature, white/non-white" (Hobgood-Oster, 3). These binaries create separation.
Fast forward to today and we can still see this in our post-colonial world having lasting and continued affects on Indigenous people, particularly women. It is not just here in the US where the Indigenous women are experiencing oppression. This is happening in the US, Africa, Canada, India, South America, etc. When we look at the root of the problem, we almost always come back to the same culprit: colonialism.  This is where the theory of Ecofeminism is of vital importance as it examines the relationship between the oppression that women experience in relation to the oppression that nature experiences. Hobgood-Oster said, "Oppression of the natural world and of women by patriarchal power structures must be examined together or neither can be confronted fully" (Hobgood-Oster, 1).
You might wonder, how does the oppression of Indigenous women tie into ecofeminism? How is it that the Earth and their relationship with it is impacted? Consider them parallel to one another; both experiencing oppression simultaneously. The same people that are oppressing the women as a matter of class structure treat the Earth and its resources in much the same way: women as something less than men, the Earth as something less than human. These binary structures have infiltrated and "classed" their identities.  Women's roles have shifted drastically, and it has resulted in an increase of violence directed at them by men. Ecofeminist theory is critical here because it "replaces hierarchal dualism with radical diversity and relationship" (Hobgood-Oster, Page 3).
This continues now with pipelines (oil industry) in the US and Canada, as well as  Palm oil plantations, and mining in Asia and the Pacific regions.
https://asiapacific.unwomen.org/en/digital-library/publications/2015/02/the-impacts-of-land-dispossession-on-indigenous-women)
Violations against collective rights continue everywhere. Land is taken, people are displaced, and livelihood is threatened. All of this industry threatens natural resources. The Indigenous women are fighting back. The pipelines threaten their land and water. It is their belief that water is the giver of life. When you take or threaten their water you are threatening their very life force. You are also threatening their food, transportation, and livelihood.
 https://www.ohchr.org/sites/default/files/documents/issues/indigenouspeoples/sr/callforinputsindigenouswomen/2022-07-28/EnvironmentandClimateChange-Canada.pdf
They are trying to protect the land, its resources, their history, culture, traditions, and spirituality. As a result, they have been the target and victims of horrific violence. As land is pillaged, poisoned, destroyed, and raped for its resources, so are the women of the land.
Click the picture or link below below to learn more about the women who protested at Standing Rock.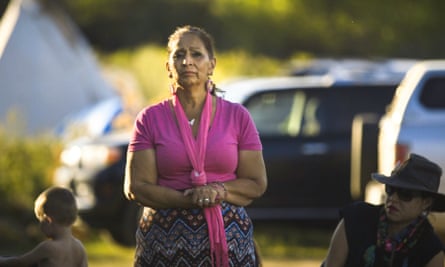 https://www.theguardian.com/us-news/2016/nov/04/dakota-access-pipeline-protest-standing-rock-women-police-abuse
As you can clearly see, there is a direct correlation between the value placed on the indigenous women and that of the land. They go hand in hand. It is important to mention that it does not stop them. They continue to organize and fight for their rights and the rights of the land. They are fighting for more than sovereignty – they are fighting to reclaim their land.  In the words of Chelsea Vowel, Metis from manitow-sakahikan, "If all you do is vaguely gesture towards sovereignty, and let settlers believe that land is not 'on the table' then you're reducing it to a metaphor" (Kane & Nguyen, page 1). She is rejecting the binary role she is expected to play in a hierarchal system. She is speaking for herself and for the land. It is her call to action which is also a part of ecofeminism. 
https://truthout.org/articles/indigenous-women-and-femmes-are-winning-fights-to-reclaim-land/
When I examine this topic, I am reminded of Leanne Betasamosake Simpson's, "Land as pedagogy: Nishnaabeg intelligence and rebellious transformation" who uses imagery via a story ("Kwezens makes a lovely discovery") of a tree being tapped for sap by a young Kwezens woman for the first time. The lessons learned, tradition that is taught, shared, and elevated by the verbal sharing of such a symbolic task, is illustrated throughout her publication. I loved this piece so much when I first read it in one of my college classes, that I emailed it to my mother to share with her. I related to how my mother taught me cooking by doing. Through our sense of smell, sound, and touch I learned and recreated. Respecting the ingredients that we grew in our garden was a huge part of my education. The tomatoes were grown in our garden and from that the sauce was made. My father taught me how to care for the garden and it was my responsibility when he was not home to water it. To take special care in picking the fruit from the vines. The way that your hands smell after you pick them, the warm earth beneath my feet … all of my senses came to life as I read Simpson's work. The connection I felt when I read this was intense. It was knowledge through experience. She calls it "wearing your teachings or coming to know" (Simpson, 7 & 11).
What is important in Simpson's article is that she speaks of her current life experiences differently. She is not learning about life in the same way that the girl in the poem is learning. Simpson states, "My experience of education was one of continually being measured against a set of principles that required surrender to an assimilative colonial agenda in order to fulfill those principles" (Simpson, 6). She compares her structured education to that of the past which was through knowledge claims as a result of lived experience. The modern education she was experiencing disengaged her from the natural ways. The tapping of the trees (via current education) was completely modernized. It removed her from the way of learning taught through the rituals of the land and her people.   Hobgood-Oster stated, "Ecofeminism suggests that the antagonism sometimes existing between religion (spirituality) and scientific worldviews has been detrimental, used by both approaches to advance their hierarchal structures" (Hobgood-Oster, 7). For Simpson, the structured education created a separation between herself and her culture and between herself and nature. It was less personal. It was an extraction of her individuality.
Simpson speaks of "coming to know" (learner led and spiritual education) and using the stories laden in tradition to teach future generations. With that gone in modern education, we can see her being stripped of her identity – just as nature is stripped of its soil, its oil, its rock, etc. with modern day industry. Both fell victim to a patriarchal society.  Modern education is one more way that indigenous women are separated from the Earth. She speaks of this clearly when she refers back to the story of Kwezen who is tapping the tree for sap:
"She learned the sheer joy of discovery. She learned how to interact with the spirit of the maple. She learned both from the land and with the land. …She comes to know maple sugar with the support or her family and her Elders. She comes to know maple sugar in the context of love" (Simpson, 7).
Simpsons assessment is profound in its ability to excavate the raw beauty between the relationship of Indigenous women and nature. She is able to capture the essence of what is born of this mutual relationship. To know this is to know what would come from neither having the other. To know this it to know what would come from either being damaged, exploited, treated as "less than", injured, spoiled, and/or stripped of its identity.
Every time a pipeline goes in, land is excavated, water is contaminated, an assault has been committed against Indigenous women and the land that they love. The patriarchal system has continued to take and take based solely on the premise of greed and privilege. The hierarchical class structure is designed to divide through various levels of oppression which fosters fear, anxiety, depression, famine, poverty, violence, and an overall lack of recognition.
It is important that we educate ourselves about these issues so that we might be the change that is so desperately needed. I will close with this quote from Simpson, "The freedom realized through flight and refusal is the freedom to imagine and create an elsewhere in the here; a present future beyond the imaginative and territorial bounds of colonialism. It is a performance of other worlds, an embodied practice of flight" (Simpson, Page 23).
If you are not already familiar with them, The Indigo Girls are a folk/country/Americana band that has been around for decades. Their advocacy is beyond admirable. Their music often references politics and their concerns with regard to the earth and the Indigenous people. They are HUGE activists. Check out their music and the many groups they support in advocacy.
https://www.indigogirls.com/media-horizon
Here is one of my absolute favorite songs by them called "World Falls".